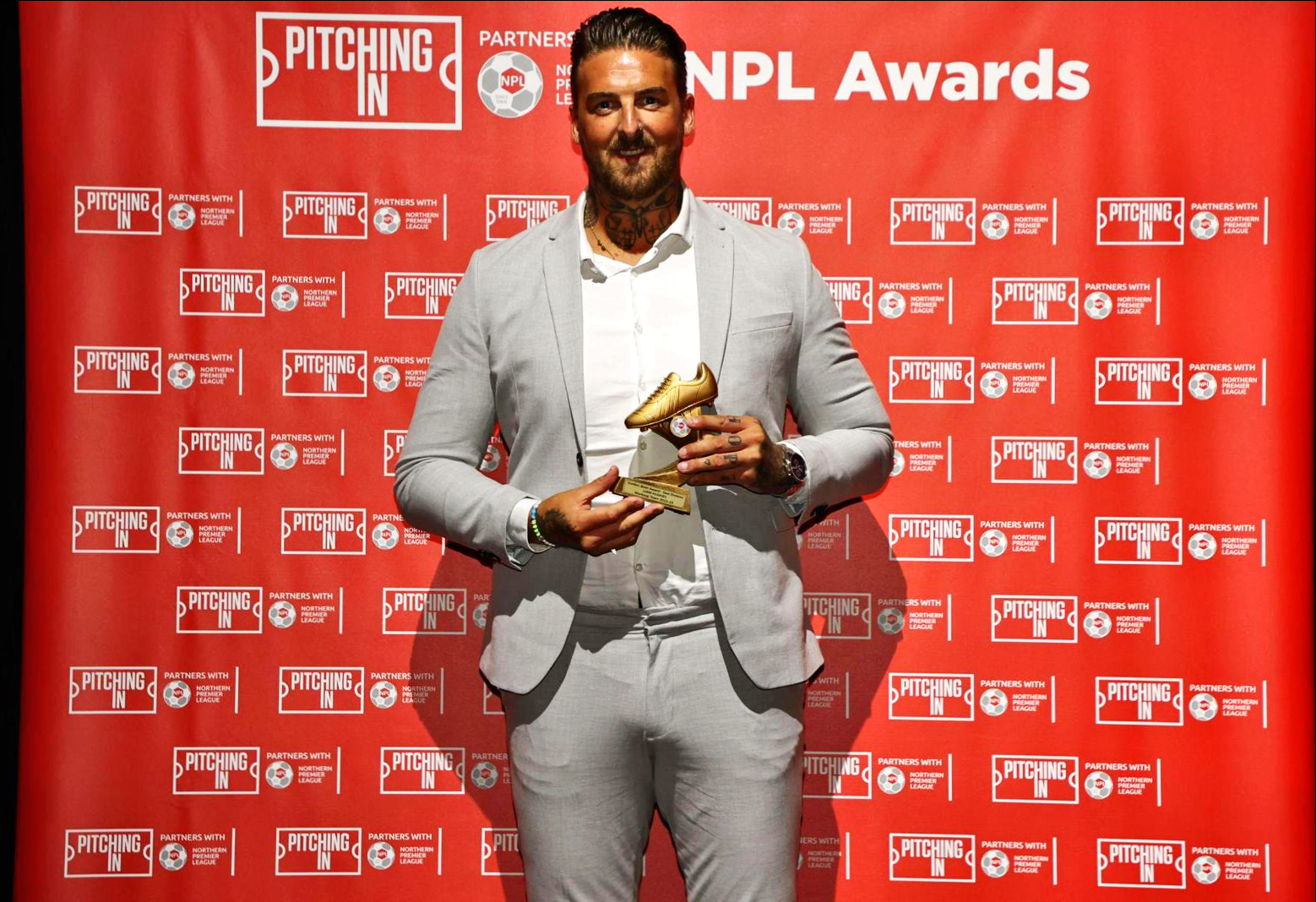 Liam Hughes is a striker for Northern Premier League club Worksop Town. He previously played for Cambridge United in the Football League and for Inverness Caledonian Thistle in the Scottish Premiership. Hughes then went on to play for Barrow, Guiseley, Billericay Town, Darlington, Gainsborough Trinity, Stratford Town, Bradford Park Avenue, and Frickley Athletic before signing for Matlock, where he scored 16 goals in 46 appearances. As well as playing football professionally he works at MITSkills helping deliver Sports Education programmes to school leavers.
How did you feel receiving the award?
Golden boot – it was a huge honour to receive the personal award and something that I will be hoping to build on in the coming season. To score 42 goals in a season is something that I am proud of and something that I couldn't have achieved without the help and support from the staff, teammates and of course the fans.
Player's player- to be acknowledged by your colleagues in any line of work is an unbelievable achievement and something that I am again extremely proud of. To share that experience with a fantastic group of people at a brilliant club makes me immensely proud.
Supporters' player – as I mentioned before- fans pay their hard earnt money and travel many miles to support the team and the achievements this year personally and collectively must be dedicated to them. Without them none of this is possible so to be acknowledged by them is truly humbling and makes me proud to be associated with such a fantastic club.
How did you progress on to working at MITSkills?
My background was always in professional football, and I have achieved so many things such as scoring at Wembley and gaining promotion to the football league, to playing in front of 55,000 people at Celtic Park in the Scottish premier league.
Following my decision to step away from the full-time game, I really wanted to give something back to young people, supporting their journeys and ensuring that they get a high-quality education whilst being able to share my experiences in football.
MIT have showed me a tremendous amount of support in the next stages of my life and enabled me to help and work with young people to try and make a real difference.
What is your job role at MITSkills?
My job role is Curriculum and Quality Lead for Sport, Designated Safeguarding Lead, and Mental Health First Aid Officer, which enables me to help and support our learner's education journeys, football progression and their mental health and well-being, something I am passionate about.
How has MITSkills helped you?
MIT have showed me a tremendous amount of support in the next stages of my life and enabled me to help and work with young people to try and make a real difference.
How has the success at Worksop helped you within your job role?
It has given me confidence and the experience to be able to communicate with learners both about football and the importance of gaining a professional and high-quality education. I use my career and experience to pass on knowledge to all learners regarding planning for the future and maximising their potential.
What is your advice to young aspiring players?
Work hard, listen and educate yourself. Never underestimate the power of a good education- don't put all your eggs in one basket and remember to always have a winner's mindset, even when you're surrounded by losers.