Carpentry and Joinery
Overview
This apprenticeship provides you with extensive Carpentry and Joinery training giving you extensive workshop skills and insight into the kind of work you will be undertaking in the industry.
A Site Carpenter will usually work on a building site, or in domestic and commercial premises, preparing and fixing building components, from the initial erection of a new building, through to the installation of all necessary fixtures and fittings, as well as a range of repair and maintenance activities.
Apprenticeships Available
Level 2 Carpentry and Joinery
Level 3 Advanced Carpentry and Joinery
Typical Duration
13-18 months
Career Progression
As well as ensuring a foundation level of competence as a Carpenter, this apprenticeship provides a potential progression into Advanced Apprenticeship Standard in Carpentry and Joinery, or secure employment as a Site Carpenter or Architectural Joiner.
The main difference between the Level 2 is the Level 3 Carpentrer has responsibility for managing their own and other people's work, as well as being required to complete complex and non-standard work.
Installation Electrician / Maintenance Electrician
Overview
This apprenticeship will train you to install, maintain and repair electrical systems in industrial, commercial and domestic environments.
You are trained to work proficiently, efficiently and economically on your own and work without immediate supervision, in both indoor and outdoor settings.
Upon successful completion of your apprenticeship, you will be required to adhere to safe working practices without endangering yourself or others.
Apprenticeships Available
Level 3 Installation Electrician/Maintenance Electrician
Typical Duration
42 months
Career Progression
You may want to look for work in the industry, either in design or maintenance of electrical control systems, machinery and equipment, or you could progress on to a higher-level apprenticeship, and earn while you learn.
Plumbing and Domestic Heating Technician
Overview
You will develop the skills and knowledge required to plan, select, install, service, commission and maintain all aspects of plumbing and domestic heating systems.
This qualification covers accurate measuring, marking, cutting, bending and joining metallic and non-metallic pipework, making you competent to industry standards in plumbing and heating.
Apprenticeships Available
Level 3 Plumbing and Domestic Heating Technician
Typical Duration
48 months
Career Progression
This qualification can help you progress into supervisory job roles such as design and planning, and a wide range of roles within the domestic plumbing and heating sector, including:
–  Heating and ventilation engineer
–  Project development manager
–  Senior skilled operative.
Property Maintenance Operative
Overview
The primary role of a Property Maintenance Operative is to optimise property condition and quality and to ensure the building is kept in a safe working condition. Property Maintenance Operatives need to maintain a high level of quality, providing maximum satisfaction to customers, clients, guests and team. They will understand the mechanism of buildings including electrical, plumbing, plant, safety systems and equipment. They will provide first and immediate response to fault finding, whilst maximising quality and ensuring cost effectiveness. They will ensure prevention of major damage that could result in extensive costs and minimise reactive intervention.
Apprenticeships Available
Level 2 Property Maintenance Operative Standard
Typical Duration
Level 2 – 12 months

Career Progression

Completing this apprenticeship programme with its transferable skills will enable progression into roles such as a Technical Specialist e.g. Electrical or Plumbing and Supervisory and Management roles e.g. Facilities Management, across a wide range of sectors.
Construction Site Supervisor
Overview
The occupation covered by this standard is Construction Site Supervisor and typical job titles can include: Assistant Site Manager, Assistant Supervisor or Construction Site Supervisor. In the case of SME construction companies the roles are likely to include Site Manager or Site Supervisor. They are associated with the supervision of specialist contractors and workers on construction projects and are based on construction sites with occasional time in offices.
The main duties and tasks of a Construction Site Supervisor are:
Supervision of specialist contractors
The control of health and safety standards on construction projects
Recording, control and reporting of progress on a construction project
The minimisation of the environmental impact of construction projects
Control of quality of works on a construction project
Assisting commercial staff with the monitoring of costs on a construction project
Apprenticeships Available
Level 4 Construction Site Supervisor Standard
Typical Duration
36 months
Career Progression
If you decide to specialise in a specific trade area, you could progress on to a higher-level apprenticeship and continue your training or begin working in the construction industry.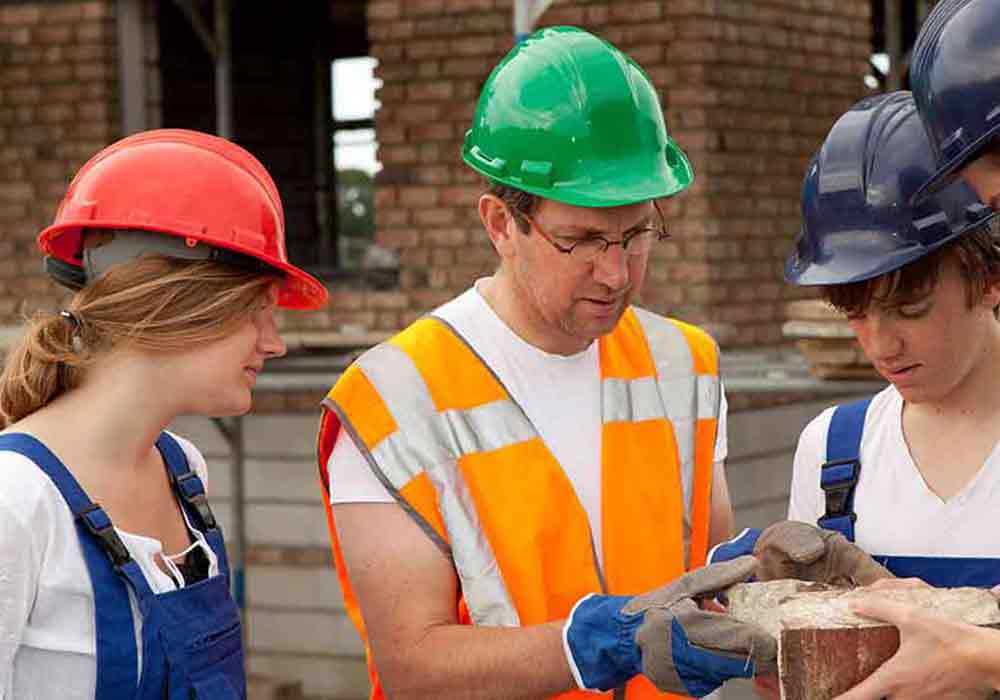 Download & Apply For This Course